24 LED Twin Driving Light Bar
High quality 24 LED Twin Light Bar. Great Whites logo can be wired to be on at all times, when park lights are on or when lights are on. Great option for those needing more light but limited space and weight options. Can be easily mounted to a roof rack with standard fittings. With a whiter, brighter output, Great Whites were designed to see more while withstanding any environment or driving situation. Sturdy bracket system and superior materials means a Great Whites light bar is designed to last.
Performance: 1 lux @ 500m
LEDS: Cree XP-G2
Raw Lumens: 13,440
Effective Lumens: 9,363
Voltage: 10-32V
Current Draw: [email protected]
Watts: 129W
Colour temperature: 6000K
Environment: IP68/69K (Dust proof/submersible to 3m)
Vibration: 21 Grms
Connection: Deutsch
Weight: 4kg
Dimensions (HxLxD): 985 x 65 x 62mm
Part Number: GWT5243
Shipping and online ordering only available within Australia.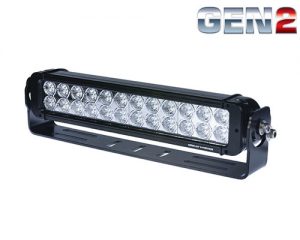 Great Whites was developed by off-road enthusiasts, for off-road enthusiasts. The range produces outstanding light output through the use of high end LEDs and smarter reflector technology. This winning combination creates the optimum driving light pattern allowing you to see further down the road and light up your peripherals, ensuring you don't bump what goes hop in the night.
Designed in Australia to suit the harshest Australian off-road conditions, Great White LED Driving Lights feature:
Cree LEDs that produce higher lumens per watt to increase light intensity
Cutting edge iris-reflector technology
Marine grade aluminium body with a polycarbonate lens
Heavy duty brackets to keep your lights in place and not vibrate
Tough as nails and covered by a comprehensive five year warranty, Great Whites is an investment in quality lighting for your vehicle.
Why choose LED
LED is the evolution of halogen and HID. Whilst HID can reach significant distances, they still rely on using globes which are fragile and cannot last driving on rough surfaces such as old roads, corrugated surfaces or off-road tracks. LED driving lights do not have a globe, making them more sturdy and long lasting. A typical LED will last in excess of 50,000 hours and will light instantly, unlike HID which will last up to 2,500 hours and has an initial warm up period.
Importantly, high performance LED driving lights can operate at 6000K, the colour of the midday sun. This colour temperature is an important safety feature as it reduces fatigue through minimised eye strain.
LEDs have a low current draw making them a more efficient light source compared to halogen and HID lights.
View the full range of high performance LED driving lights.
Great Whites has a reputation for high performance, high quality driving lights to suit the needs of 4×4 enthusiasts and commercial/transport fleet operators.
Every Great Whites light is built to last, to help you see further down the road, more of the beaten track and a wide peripheral so you can see what's lurking in the dark.
The Great Whites Gen2 range is ideal for commercial fleet operators, while Great Whites Attack is best suited to 4×4 enthusiasts. Of course, you can choose which ever you like; no matter the choice, they're all going to survive whatever you can put them through.
For more details on individual products, see the collection below. Click on the headings to filter down to different product categories.